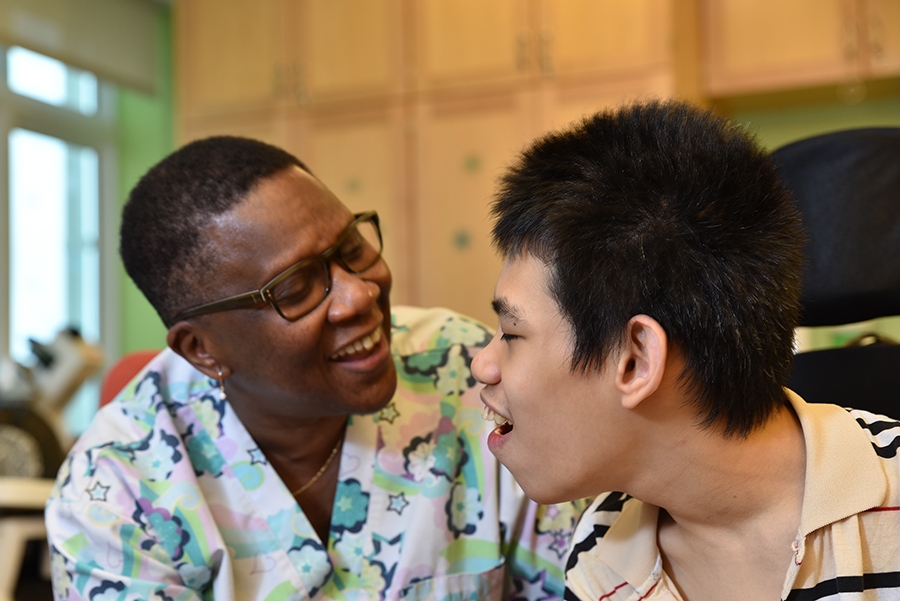 Our Mission
Elizabeth Seton Children's Center is the largest, most proficient, non-profit health center in America for children with severe medical complexity. Our mission is to give these children the chance to learn, live, thrive and safely become adults. We do this by providing the entire range of what they need: state-of-the art medical care, education, rehabilitation, social activities, deeply inclusive partnerships with their families and a true sense of dignity and love. There is no place in the United States with the size, success and approach like ours. We have proudly been recognized as a pioneer in helping these underserved children. Yet urgent needs remain.
Our Children
The children we serve need help with the most basic daily functions. Their medical conditions are chronic, complicated and extremely limiting on their lives. Most of them are unable to walk and may depend on technology in order to be able to eat, breathe or communicate. Their conditions include genetic disorders, traumatic injuries and childhood diseases. They have extraordinary needs – but also tremendous determination, spirit and will to live life more fully.
The Challenge
Our Center serves 169 children from infancy to young adulthood. We are blessed to live in a time in which modern advances in medical care allow more of our kids to thrive past their teenage years than ever before. However, under New York State rules, these young people can no longer stay with us when they're over age 21. And most of them have nowhere to go that can meet their specialized needs. This is an "aging out" crisis. And it is a matter of life-and-death.
The Urgency
Since 2012, 30 percent of our young adults who left our care have died in just over a year. And right now, approximately 50 children will age out by 2024. In our state alone, there are an estimated 5,500 children with high need medical complexity under the age of 21 enrolled in New York State Medicaid. The problem is only growing. Uninterrupted, specialized care for these young adults is essential. Nursing homes are not equipped to help these young people. They must have a place of their own.
The Solution
Elizabeth Seton Children's is raising money to build the first home of its kind for young adults with medical complexity. This will be a national model. It will give these people the support they need to survive and thrive – a home with life-sustaining technology, specialty clinics, interactive living environments, spaces for music, art, family time and outdoor exploration. For donors who want to have an impact on a child's life, this is the place to give. Help us achieve a vision of building a young adult program with a donation.
Do you have any questions?
Please contact us at 1 (833) 63-SETON