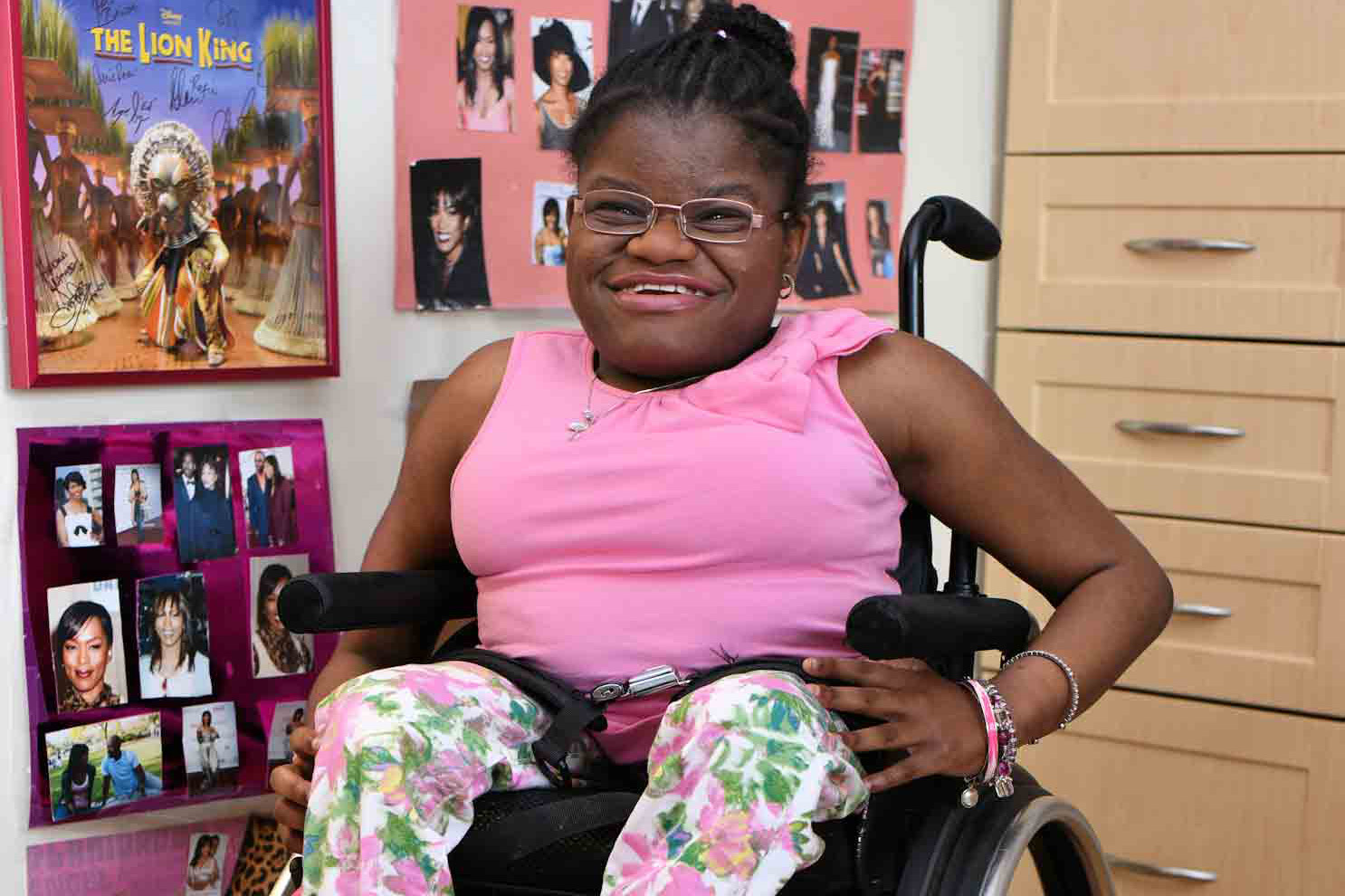 With her trendy outfits, sparkling jewelry and camera-ready makeup, 21-year-old Stephanie is one-of-a-kind. She lights up the hallway as she wheels by waving at her friends. She's got a lot of them at Elizabeth Seton Children's Center, where she has resided for much of her life. "It's like home to me," Stephanie said, speaking of the Center.
She first became a resident at the Center at three months old. Stephanie's mother, Marie Rimpel, had been prepared during her difficult pregnancy (with twins) and for her daughter to be born with life-long, severe disabilities. Still, she was devastated when she heard the diagnoses: spina bifida, Arnold-Chiari malformation, hydrocephalus, neurogenic bladder and failure to thrive.
Marie vividly remembers the profound experience of bringing her daughter to the Center. "They explained everything to me [and] they gave me hope for the future. I felt more at peace than ever before." For the first time, Marie recounted, she could reimagine her dreams for Stephanie.
For six years, Stephanie lived at the Center where she flourished and even became medically stable enough to return to her family's home with her twin brother and baby sister.
However, for medically complex children like Stephanie, the story is not always that simple. Stephanie has been readmitted to the Center multiple times since. Most recently, she was admitted in January 2015 following complications from surgery.
Stephanie does not let her diagnoses or the countless number of surgeries she has endured during her young life break her spirit. She is an inspiration to all with her exuberant, positive spirit and zest for life. There are no limits in her mind or world, only possibilities. She describes herself as having a creative spirit and says she finds her greatest joy when she is creating art or music and sharing her talents with others. "Art is an escape," explained Stephanie. "Music is my life! I express myself by singing my heart out. I want to make a difference and speak for children who can't speak for themselves by being their voice."
However, a moment of change and disruption is approaching for Stephanie. At the end of 2018, Stephanie turned 21, which means she will now have to find care outside of the Center. "Once you turn 21, there's going to be a time where you're not going to be [at the Center] anymore," said Stephanie. "The condition that I have – I can't walk or do any of the things that you can do. I can't go to the grocery store by myself or go out shopping or walk to go out to eat, I can't do that kind of stuff. I'm always going to need a person there, all the time, with me. Once I turn 22, where am I going to go?"
Learn more about the "aging out" crisis and how you can help children like Stephanie here.
Do you have any questions?
Please contact us at 1 (833) 63-SETON