Elizabeth Seton Children's National Spokesperson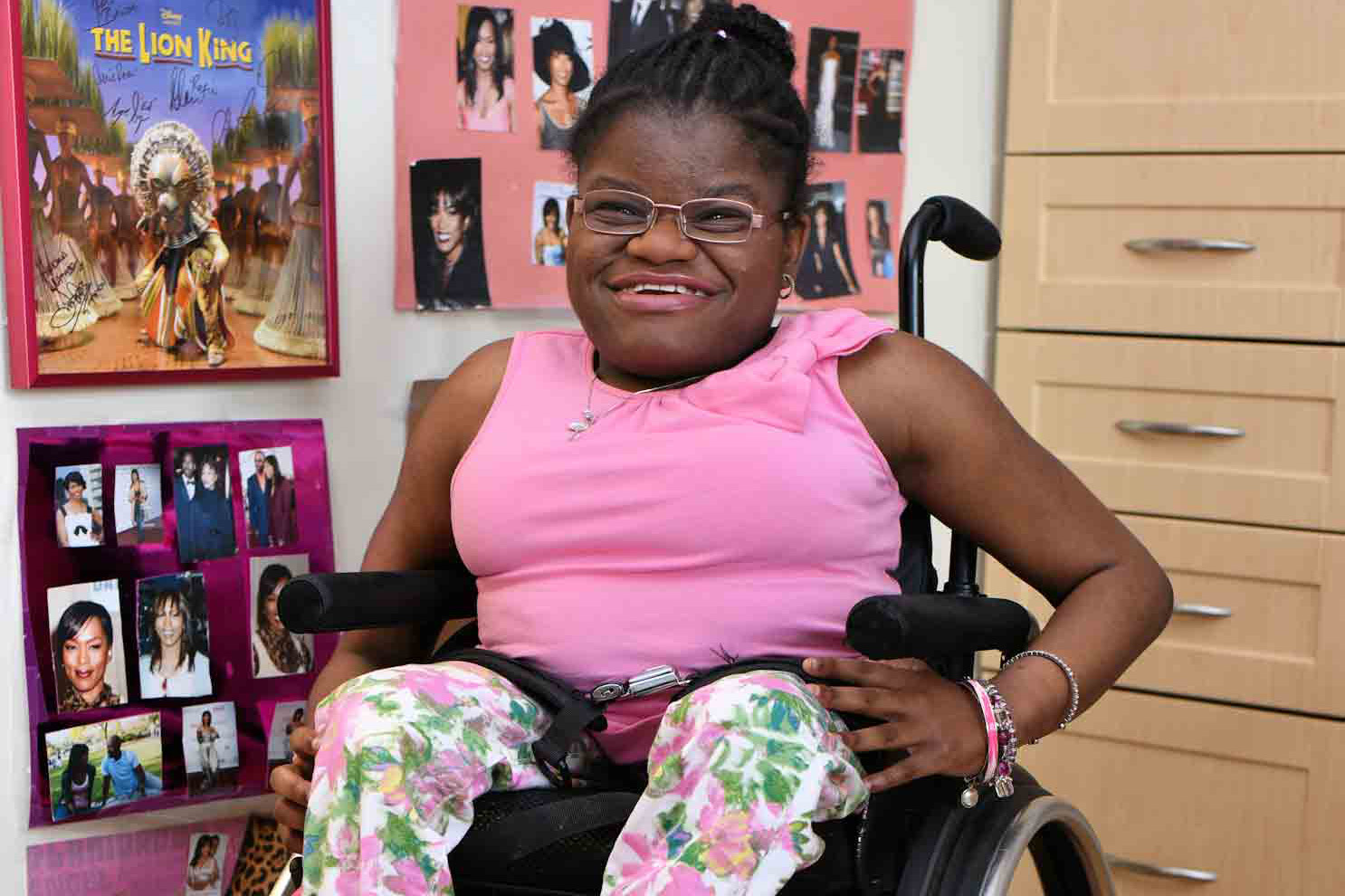 If there is one person who embodies the spirit of love and possibilities at Elizabeth Seton Children's, it is Stephanie Gabaud. By enduring and thriving despite severe and complex medical conditions, Stephanie has become more than a young adult of defining grace; she is the face of a crisis that threatens lives like hers when young people age out of a children's care center and have nowhere to go.
Stephanie has lived most of her life at Elizabeth Seton Children's Center, starting from just three months old. The challenges she's endured since birth are immense – spina bifida, Arnold-Chiari malformation, hydrocephalus, neurogenic bladder and failure to thrive. On top of that, she's lived through countless painful and often risky surgeries.
Stephanie has overcome every challenge she's faced with a level of courage few can comprehend. She credits her love of music and art for helping her through some of the most difficult days of her childhood, but those who know her understand that it took tremendous fortitude and character for her to thrive as she has and maintain her positive and lively personality.
Today, as a young adult, Stephanie is inspired by and deeply connected to St. Elizabeth Ann Seton. In fact, a sculpture of her standing with Mother Seton welcomes visitors to the children's center as they enter. Despite her profound medical challenges, she is like any young woman her age with her trendy outfits, sparkling jewelry and camera-ready makeup at all times. Stephanie, who graduated high school in 2019, is a role model to other children at the children's center because she is living proof that their lives are full of possibilities.
Her story has inspired some of the most prominent leaders in her community, the State of New York and even Hollywood. In the spring of 2019, Stephanie was recognized as the Youth Honoree at Gemstarr's "Women Who Dare to Be Different" Awards. Her friend, His Eminence Timothy Cardinal Dolan, lovingly refers to her as the Mayor of Elizabeth Seton. She maintains an influential voice with her mentor, New York State Senate Majority Leader Andrea Stewart-Cousins. She sang her favorite song, "Home," with the artist himself – singer-songwriter Phillip Phillips. And she has forged a deeply close friendship with Hollywood royalty, Angela Bassett, whom she met through Make-A-Wish. Angela and Stephanie text regularly and Stephanie even accompanied her famous friend on the red carpet at an American Heart Association event in New York City last year.
But now Stephanie is focusing her energy on a bigger purpose. Recently named National Spokesperson for Elizabeth Seton Children's, Stephanie is leveraging her inspirational story and influential contacts to raise awareness about a fast-growing, life-and-death crisis impacting young adults with medically complex conditions like her.
Today, modern technology allows children with medically complex conditions to live longer than ever. But for those like Stephanie, who require 24/7 care in a residential medical center like Elizabeth Seton Children's Center, thriving into adulthood creates significant uncertainty because there are a lack of viable options for the care of young adults with medical complexity when they age out of pediatric care at 21. Most end up in geriatric nursing or group homes, which were never intended to serve young adults with medical complexity.
At age 22, Stephanie has already reached the age where she is required to leave Elizabeth Seton Children's Center. Luckily, New York State is temporarily allowing her to live at the children's center for another year. But, the fact remains that about 50 of the children's center's residents are within five years of aging out and there is no age-appropriate care once they leave. Statistics show that since 2012, 30 percent of young adults who have been discharged from the children's center to adult facilities have died in just over a year.
Elizabeth Seton Children's is urgently raising funds in pursuit of a solution to the crisis: building the first of its kind, licensed skilled nursing facility serving individuals with medical complexity over age 21. That is why Stephanie's advocacy is so critical right now. She is in contact with anyone and everyone who will listen – telling them her story, educating them about the aging out crisis and enlisting their help to build a new home for young adults like her. Please join Stephanie's fight to solve the aging out crisis. Learn more by clicking here.
Do you have any questions?
Please contact us at 1 (833) 63-SETON