Elizabeth Seton Children's Awarded $25,000 Play Grant by Children's Hospital Association and the Toy Foundation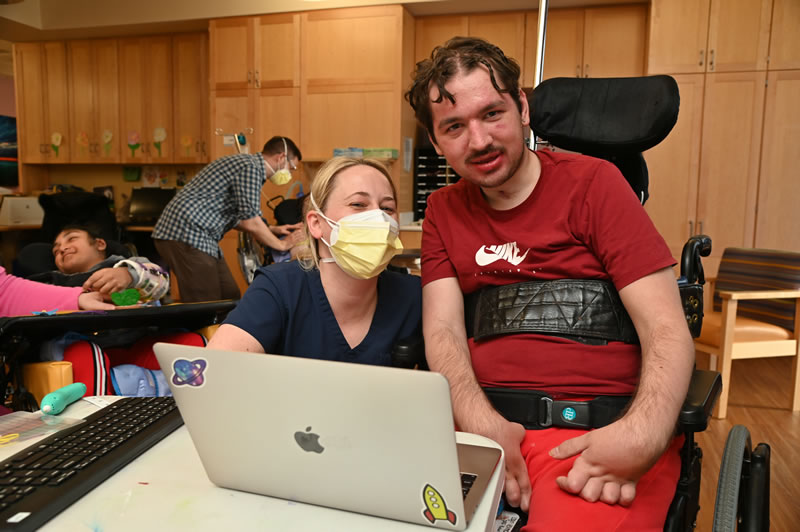 March 2023
Elizabeth Seton Children's Center is thrilled to announce that it has been awarded $25,000 in funding from Children's Hospital Association (CHA) and The Toy Foundation (TTF) to support play therapy programs.
Cutting-edge tools in technology and adaptation, like those funded by CHA and TTF's 2022 Play Grant, are being used to create customized, adaptive toys, games, activities and experiences so that children and young adults with severe medical complexities can learn, build skills, engage in creative play, have fun and enjoy an enhanced quality of life. The initiative funded, named Project OPTIC: Optimizing Play with Technology, Innovation and Creativity, has added a range of specialized, state-of-the-art technology and materials (including 3D printers and pens, VR technology and other tech tools) to Elizabeth Seton Children's Center's Child Life and Creative Arts Therapies toolkits and enhanced the day-to-day play experiences for the children's center's 169 residents during recreational time, school, rehabilitation therapies and more.
Equipment like virtual reality and augmented reality allow for greater opportunities for residents to interact with their world more freely – either on their own or with the assistance of caregivers.
"Using VR and augmented reality allows for more inclusion," explained Director of Creative Arts Therapies James Maxson. "With VR, there's lots of resources that already exist now where children and young adults can have immersive experiences and have control. Being able to look around your environment gives you a little more autonomy and authority to go to these places in a digital world, which is exciting and special."
Funds from the grant have also been used to purchase items like specialized laser-cutters for recreational programming and art therapy, as well as 3D printers and pens to enrich children and young adults' experiences with STEAM-based projects.
The children's center is among 18 other children's hospitals in the US that received more than $385,000 in funds for play therapy projects and activities as part of CHA and TTF's Play Grants 2022/2023 program. The projects selected to receive funding through this grant aim to improve pediatric care through the healing power of play at hospitals that serve communities of the greatest need.
Do you have any questions?
Please contact us at 1 (833) 63-SETON