Play Grant from Children's Hospital Association and the Toy Foundation Opens Doors Through Virtual Reality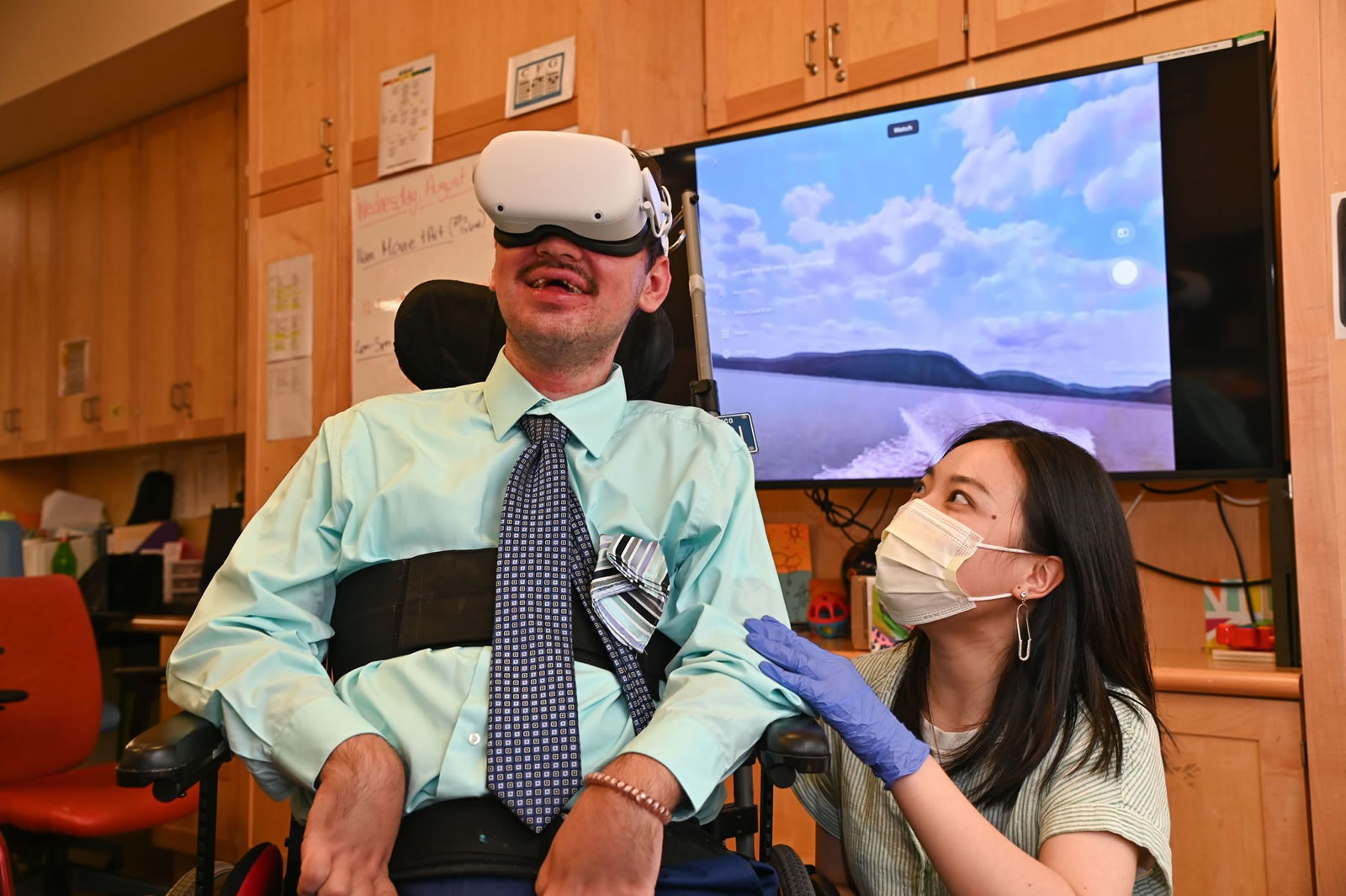 October 2023
Thanks to a $25,000 grant from Children's Hospital Association (CHA) and The Toy Foundation (TTF) to support play therapy programs, children and young adults with medical complexity at Elizabeth Seton Children's Center are benefiting from the healing power of play like never before.
CHA and TTF's 2022 Play Grant funded Project OPTIC: Optimizing Play with Technology, Innovation and Creativity. A key component of this initiative is virtual reality technology, which is giving residents the opportunity to explore the world around them – and beyond – without ever having to leave the comfort of the children's center.
For 24-year-old resident, Kevin, one such VR experience included cruising on a motorboat up the Hudson River. "Oh my gosh! I'm on the river! I'm on the water!" he exclaimed when the blue skies and splashing water appeared via the Meta Quest VR headset. The virtual outing was made possible thanks to Mark Civita, RN, the boat's owner/pilot and a nurse at the children's center, and Creative Arts Therapies Clinical Lead Emily Autrey, who captured the footage using a 360-degree camera.
Through technology and adaptation, like VR, children and young adults can overcome barriers to inclusion and enjoy unique opportunities that promote skill-building and fun. Kevin's priceless reaction underscores just how meaningful, exciting and empowering these immersive, digital excursions can be for young people with complex medical conditions.
"With the generosity of this grant, we have been able to embark on a virtual journey to give our young people access to countless experiences of real and imaginary places," said James Maxson, Director of Creative Arts Therapies. "That journey is just getting started. Staff volunteers are lining up to capture field trips to places like Legoland and the Norwalk Aquarium and take the 360-degree camera on a bike ride up a mountainside and even to the beach for some surfing!"
In addition to VR equipment, the 2022/2023 grant from CHA and TTF funded the purchase of 3D printers and pens, specialized laser-cutters, a laptop and other tech items to advance Project OPTIC.
Do you have any questions?
Please contact us at 1 (833) 63-SETON